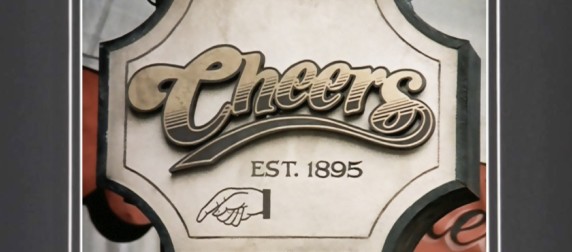 Everybody wants to be wanted, or at least recognized. I have a few places where they know me on sight when I walk in the door, but that kind of permanence and stability has been rare, especially since I grew up outside the Nation's Capitol, where there are very few "natives" and the population is extremely transient. Too, I went to a very large university in Boston, where much of the student population was composed of commuters, so the typical school experience was very different, more focused on studying and less on social life, especially after dark, when a majority of the student body left for their own homes in the suburbs.
Business relationships are often like that, too: you meet, you greet, you follow up, maybe even work on a project or several, and then drift apart. Relationships like anything else have to be nurtured and tended to in order to survive and thrive. The relationship with your customers is just that way. It takes effort to nurture them and to keep customers aware of you and to keep your business top of mind.
Marketing can do that for you, but it must be sincere, and it must at least appear as much as possible to be PERSONAL. Your customers are humans, whether it's B-to-B or consumer market, and they deserve to be treated as such. Good marketing, especially direct mail copy, should appear to be written specifically to YOU. That DOESN'T mean you just use the word "you" a lot in the copy – there's an art to it, and if you're not feelin' the art, have a pro write your copy for you – its worth it.
Customer service is often as simple as answering a question quickly and accurately. It can go as far as going above and beyond and addressing a long-standing problem and turning that complaining customer into an evangelist.
I was the recipient of some tremendous customer service last night, at a business networking mixer, at the Intercontinental Hotel here in Baltimore. There is one place where they know me when I walk in the door, and this is it. Before I had gotten through the lobby into the bar proper, the top notch bartender, Elizabeth, had my "usual" beverage prepared for me, ready to go without me asking or even looking in her direction.
Now in reality, I have only been a guest there about 6 times in the last year, but it's always for the same event, the same time of day and the same day of the week, and our schedules collided on a regular basis – but she took the time and energy to remember after just a few small interactions who I was, what I looked like (winter and summer mind you, no identifying scarf or coat to help) what I liked to drink, and how I liked to get the evening started.
Terrific! Kudos to Elizabeth for taking the initiative and providing outstanding service – and kudos to Arpad and the staff at the Intercontinental for realizing that sometimes employees need to be empowered to go above and beyond to REALLY please customers, and for allowing them the latitude to do it. I'm sure preparing a drink before the customer asks isn't in the InterContinental's policy book, but Elizabeth knew that I would be pleased and she was right. Thank you.
Write about your good customer experiences here, be glad to pass them along . . .
Did you find this interesting? If you'd like to read more like this about marketing, customer service, branding or other topics, pick up your copy of "The Marketing Doctor's Survival Notes"