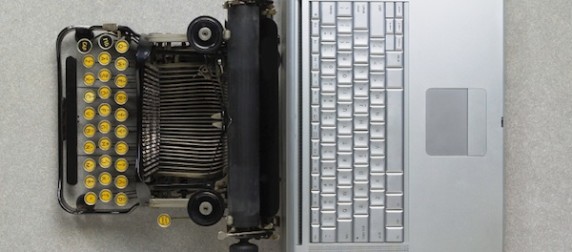 It has been said that on occasion at least, the medium is the message, and that's a good thing to keep in mind when setting up your next marketing program. However, the choice of media is not really up to you anymore – and no, despite all the rumors, it's not up to your ad agency, either – it's really up to your customers. Sometimes, it's via newspaper or magazine, sometimes it's television or radio, often it involves a digital component, e-mail or a website, blog or social media platform. Regardless of which one, you have to let the customer decide which they prefer to interact with your brand, which one has credibility for them, which one will carry the message most effectively, or which combination will move the emotional needle and spur a buying decision or action of some sort. That's really the goal, isn't it?
I want to thank John Garcia, a writer for The Business Journal chain of media (print and online both) for coining the term "Tradigital" to describe the proper mixture of traditional and digital media used to reach a given audience. In a world full of cutesy contractions of celebrities' names, this stands out as a brilliant single word explanation of the best approach to finding the audience in the right way.
As always, the key to making the best balance of Tradigital media selection, good, solid customer research is the best place to start the planning process. Dip into your customer base, review your prior media mix, see what's working and what's not, and for whom, then vet it with some in-depth, interrogatory interviews with actual customers, asking them specific, actionable, emotionally-driven questions regarding how they feel about interacting with your brand both traditionally and digitally, see if you can divine their decision-making process and where they like to start versus where they enter your actual sales process.
Data in hand, now it's time to make some decisions. Do you need to reinvent the wheel, recreate the existing sales funnel to match your customer's preferences more closely, or are just a few reorganizational tweaks all that is needed?  Only your data can tell you for sure. Certainly, the more closely your sales process aligns with their decision-making process, the more comfortable your customers will be interacting with you, and the more often they will return to buy again – you win!
Getting the mix right can be tricky, but with two types of data to work from, transactional and anecdotal, you should be able to connect the dots mixed in with some experiencial knowledge and common sense and get pretty close.
If you don't feel comfortable doing this type of baseline research with your own customers yourself, hire a professional to work with you and get you going in the right direction – they do this all the time and are objective and understanding at once, able to empathize with customers while keeping their emotional distance so that it doesn't influence their analysis. That what professionals are for.
Did you get it right? Time will tell, as will your sales dashboard. Unfortunately, the job is never done, as the customer parameters and demographics shift and change over time, so even if you got it right for now, you'll need to keep a close eye on it and be prepared to shift over time as customers evolve and change.
Did you find this valuable? If you'd like more of this kind of information, subscribe to this blog and get it in your inbox weekly  – for FREE!
Don't forget to pick up your copy of "The Marketing Doctor's Survival Notes"