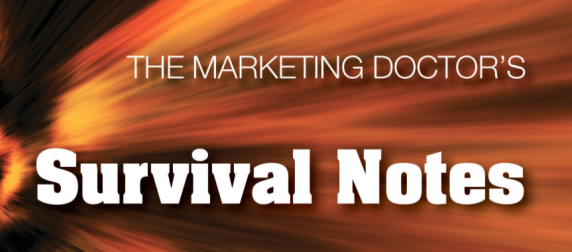 Everybody Can "Do" Marketing, Right?
When you need answers about your health, you consult a professional, trained physician. When you need marketing expertise, you should consult the professionals, too. The Marketing Doctor has a diagnosis for a full range of marketing ills, and has a prescription in mind to help you build a healthy, robust, marketing organization. Now, you can consult the Marketing Doctor any time, in "The Marketing Doctor's Survival Notes".
With over thirty years of marketing experience to draw upon, author Dave Poulos puts a wide range of strategies and tactics into perspective, covering philosophy of marketing, use of research, customer service as a marketing tool, and a host of tactical executions, including direct mail, e-mail, sponsorships, social media, promotions, tradeshows, web traffic and more.
Useful as classroom guide, marketing primer for new hires, career-changing introduction, or refresher for marketing veterans, this volume is a must-have for your professional library.